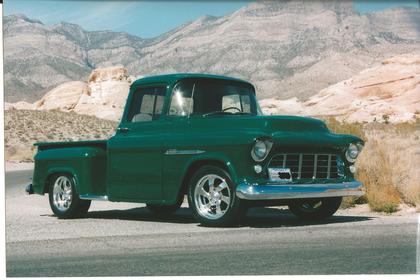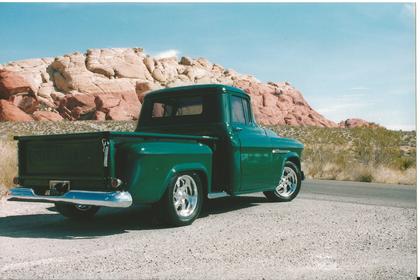 There were 2 different 1955 Chevy Trucks. The carry-over truck that looked like the previous series 1947-1954 trucks and the 2nd series which looked like 56-59 models. Later 1955 to 1959 Chevy trucks were designated "Task Force" trucks.
Differences in 2nd Series 1955 to 1959 Chevy Trucks
1955 Second Series Chevy Trucks -This was a tremendous leap forward in making trucks more comfortable to drive. Power steering and brakes were available for the first time on Chevy trucks. The cab was bigger inside than previous Chevy's. A new wrap-around windshield was the first of its kind on a truck. You could also get a 12 volt electrical system. This was the only year for a 7 foot bed option. 1955 second series Chevy's were available with standard options like a 265 V8, and fleetside 6 foot, 7 foot, and 8 foot beds.
1956 Chevy Trucks – The 56 Chevy got a wider hood emblem as well as  two piece fender emblems which were mounted above the horizontal fender line. 1956 was the last year for an egg crate grille.
1957 Chevy Trucks -1957 Chevy trucks received a more open grille and a hood which was flattened out with 2 spear like chrome pieces added. Oval fender emblems are on each side above the horizontal fender line
1958 Chevy Trucks -1958 brought a host of changes. All half-ton trucks were now called Apaches. A fleetside bed was available for a completely different look from the step-side beds of earlier years. Two headlights were added for a total of 4. Parking lights were placed in the grille. Even the hood was altered slightly. The hood is like the 55 and 56 models with the addition of a valley like indentation. 1958 was also the first year you could get AC directly from Chevrolet.

1959 Chevy Trucks -Chevrolet must have felt they had the Task Force trucks at their pinnacle because little was changed for 59. Side badges were changed and a bigger and more detailed hood emblem was added.
It's interesting to note that this was the last year Chevrolet trucks would use the NAPCO (Northwestern Auto Parts Company) "Powr-Pak" four-wheel drive conversion.