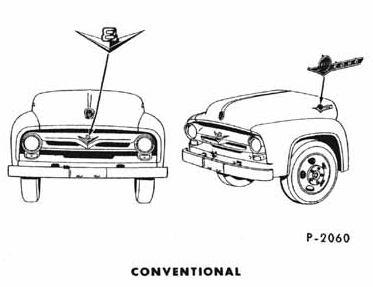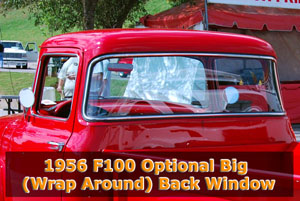 In most people's opinion, the F100 reached its finest design in 1956 making it the favorite of the 53-56 Ford trucks. Many changes were implemented that make this truck the best of the 53-56 Ford pickups.  The easiest and quickest way to recognize a 56 over the 53-55 F100 models is by the cab. The slant front windshield pillars from 53-55 F100 are gone in favor of a more refined wrap around windshield on the 56 F100. A lot of people call the 53-55 trucks "slant cabs" because of the windshield and front cab pillars that slant up to the roof. This 56 cab design change leads to many additional changes. 53-55 slant cab trucks had a triangle shaped vent window to match the slant. 1956 F100 models have a more rectangular shaped vent window. Of course the door windows and division bars are different from slant cab models also. One of the most sought after options on the 56 F100 is the big back window truck. There were fewer of these made and they literally had a huge back window. The front grille & parking light assemblies are unique to 56 models. Because the headlights sink into the buckets on the grille, 56 F100 air deflectors have a dished out area for the headlight bucket to have room.
Inside, the dash gauge area was arched. 1956 also saw a new 12 volt electrical system. Vacuum wipers were gone in favor of an electric wiper system. Rear tail lights were the shield type.
The engine line-up for the 56 F100 consisted of a 223 straight 6 cylinder as well as a 272 V8, though there were 3 versions of the 272 available in 56. There was a 2V carburetor light duty 272 engine and a 2V carburetor heavy duty 272. The third variation of the 272 was a 4V carburetor heavy duty engine.
56 F100 Production Numbers
Year
Pickups
Panel Trucks
Big Window
1956
137,581
14,023
6,200
Year
Truck
Serial Code
Regular
Light
18,000 GVW
1956
F-100 Conventional
F10
F11
1956
F-250 Conventional
F25
F26
1956
F-350 Conventional
F35
F36
1956
P-350 Parcel Delivery
P35
P36
1956
F-500 Conventional
F50
F51
1956
B-500 School Bus
B50
B51
1956
C-500 Cab Forward
C50
C51
1956
P-500 Parcel Delivery
P50
P51
1956
F-600 Conventional
F60
F61
F63
1956
B-600 School Bus
B60
B61
B63
1956
C-600 Cab Forward
C60
C61
C63
1956
P-600 Parcel Delivery
P60
P61
1956 Engine Codes
D
O.H.V. 6 Cylinder-223 cid
V
O.H.V. 8 Cylinder-2V Carb (L/D)-272 cid
Z
O.H.V. 8 Cylinder-2V Carb (H/D)-272 cid
R
O.H.V. 8 Cylinder-4V Carb (H/D)-272 cid
1956 Transmissions
Code
Type
3
3-Speed Regular
3MD
3-Speed Medium Duty
3HD
3-Speed Heavy Duty
AUTO
3-Speed Automatic
3OD
3-Speed Overdrive
4SYN
4-Speed Synchronized
5DIR
5-Speed Direct
5OD
5-Speed Overdrive
| | |
| --- | --- |
| Assembly Plant Code | Plant Location |
| A | Atlanta |
| B | Buffalo |
| C | Chester |
| G | Chicago |
| D | Dallas |
| F | Dearborn |
| H | Detroit Truck |
| K | Kansas City |
| L | Long Beach |
| U | Louisville |
| E | Manwah |
| M | Memphis |
| N | Norfolk |
| R | San Jose |
| S | Somerville |
| P | Twin City |
| | |
| --- | --- |
| 1956 Paint Code | Paint Color Name |
| A | Raven Black |
| B | Dark Blue Metallic |
| D | Light Blue |
| E | White (for two tone) |
| G | Light Green |
| R | Torch Red |
| U | Meadow Green |
| M | Yellow |
| H | Gray |
| P | Prime |
| SS | Special Order |