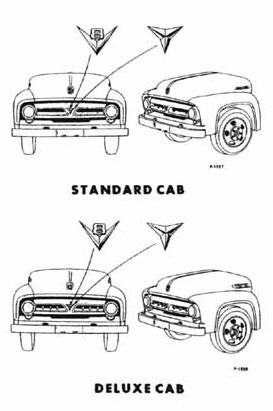 1953 was the first year of the F100 and the last year you could get a Flathead in a Ford pickup. The new 53 F100 was uniquely styled with a slant cab window, fat fenders and larger cab space than the F1. 1953 was also the 50th anniversary of the Ford pickup. The horn button on the 53 F100 is unique and displays the anniversary year. Differences were minor when compared with today's truck options. A fresh air cab option on the 53 F100 was available. Deluxe 53 F100 trucks had 6 chrome teeth mounted in the grille – 3 on each side of the center chrome emblem. Deluxe trucks also had a chrome gull wing on each side of the hood surrounding the chrome 53 F100 emblem.
Turn signals were not standard equipment. Seat belts were also not available. Vacuum wipers were used and only worked when you let off of the gas to free up vacuum from the engine to run the wipers. Front suspension was a straight axle with leaf springs. Brakes consisted of a single master cylinder with drum brakes on all 4 corners. These are fine for speeds below 45, but hardly safe on today's roads.
3 Engine options were available: O.H.V. 6 Cylinder-215 cid, L-Head 6 Cylinder-254 cid and the L-Head 8 Cylinder-239 cid (Flathead). Most 53 F100 trucks came with a 3 speed transmission shifted on the column. V8 trucks had a chrome V8 emblem on the center of the grille while 6 cylinder trucks had a chrome 3 pointed star.
Most parts on the 53 – 55 F100 trucks are the same or will fit. These years are basically the same except for trim and engine options. The grille on the 53 F100 is unique to that year. Front parking lights are the same on 53 and 54 F100 models, as well as the lower valance that runs below the grille. Gull wing chrome and the F100 hood emblems are the same on 53 and 54 F100 trucks. Taillights were also the same on 53 and 54 models and were the round version rather than the shield shape lights found on the 55 and 56.
53 F100 Production Numbers
Year
Pickups
Panel Trucks
1953
116,437
9,951
| | | |
| --- | --- | --- |
| Year | Truck | Serial Code |
| 1953 | F-100 Conventional | F10 |
| 1953 | F-250 Conventional | F25 |
| 1953 | F-350 Conventional | F35 |
| 1953 | P-350 Parcel Delivery | P36 |
| 1953 | F-500 Conventional | F51 |
| 1953 | B-500 School Bus | B51 |
| 1953 | C-500 Cab Forward | C51 |
| 1953 | P-500 Parcel Delivery | P51 |
| 1953 | F-600 Conventional | F61 |
| 1953 | B-600 School Bus | B61 |
| 1953 | C-600 Cab Forward | C61 |
1953 Engine Codes
D
O.H.V. 6 Cylinder-215 cid
M
L-Head 6 Cylinder-254 cid
R
L-Head 8 Cylinder-239 cid (Flathead)
53-55 Transmissions
Code
Type
3
3-Speed Regular
3HD
3-Speed Heavy Duty
AUTO
3-Speed Automatic
3OD
3-Speed Overdrive
4SYN
4-Speed Synchronized
5DIR
5-Speed Direct
5OD
5-Speed Overdrive
| | |
| --- | --- |
| Assembly Plant Code | Plant Location |
| A | Atlanta |
| B | Buffalo |
| C | Chester |
| G | Chicago |
| D | Dallas |
| F | Dearborn |
| E | Edgewater |
| H | Detroit Truck |
| K | Kansas City |
| L | Long Beach |
| U | Louisville |
| M | Memphis |
| N | Norfolk |
| R | Richmond |
| S | Somerville |
| P | Twin City |
| | |
| --- | --- |
| 1953 Paint Code | Paint Color Name |
| A | Raven Black |
| B | Sheridan Blue |
| C | Glacier Blue |
| D | Woodsmoke Gray |
| G | Seafoam Green |
| N | Vermilion |
| R | Meadow Green |
| P | Prime |
| SS | Special Order |