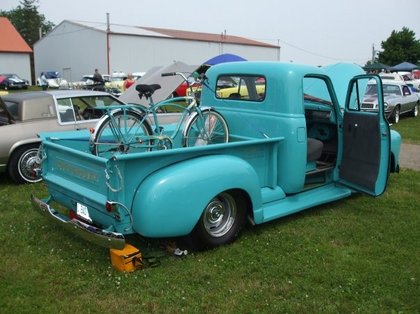 This north of the border 52 Chevy resides in St. Catharines, Ontario Canada. It was restored in 2000 and had very little rust to work through. All of the factory sheet metal was retained, except the tailgate. When it came to choosing an engine, Tim chose a 5.7 liter tuned port injection small block from an 87 IROC attached to a 700R overdrive trans. Out back, a 3.73 geared rear limited slip axle puts the power to the ground. An OE GM wiring harness and ECM keeps the spark firing while a K&N filter allows the air to flow smoothly.
Keeping the truck cool is a four core radiator. A hand built aluminum fuel cell tucked between the bedrails stores the go juice. Stainless is everywhere under the hood and is also used for brake lines.
Front suspension is from a Trans Am clip sporting front disc brakes and lowered with new custom coil springs. Leaf springs handle the rear bounce and are also lowered.
GM Ralley rims are wrapped with BF Goodrich rubber
Paint is PPG urethane tropical turquoise from 1956 GM with House of Colour Pearl ICE crystals in clear giving the truck a little sparkle in the sun. Firewall holes were filled smooth while chrome bumpers finish off the ends of the truck. The straight bed is filled with solid Beech wood flooring with polished bed strips.
This truck is a multiple show winner and we love it!
Nice job Tim!