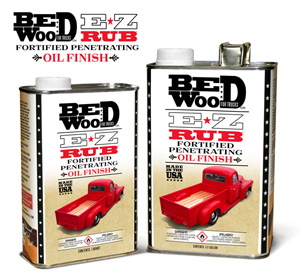 BedWood™ for Trucks Introduces a Fortified Wood Finishing Penetrating Oil
Hopkinsville, KY—November 1, 2011— Bed Wood and Parts the leading manufacturer of specialty bed wood restoration and custom kits has chosen SEMA to introduce another new wood finishing product.  SEMA (Specialty Equipment Market Association) show held this year from November 1-4, 2011 is the premier automotive-aftermarket show in the world. Held every fall in Las Vegas, Nevada, the show always attracts the world's largest and most impressive collection of automotive-aftermarket parts manufacturers.- The show is also a magnet for celebrities, car builders and customized car, trucks and hot rods.
BedWood for Trucks, a manufacturer of quality BedWood kits made in America for trucks, customs and hot rods, is exhibiting in Hot Rod Alley at SEMA. In addition to showing a complete line of BedWood kits for restoration and customization, the BedStrips line of extruded aluminum hidden fastener strips will be displayed along with the RetroLiner™ wood kits for late model vehicles.  Adding to the BedWood line of extensive and superior quality products is the new fortified penetrating oil finishing product.  Developed and shown at SEMA for the first time is BedWood EZ Rub™ Fortified Penetrating Oil; this is a deep conditioning oil that seals and protects.
"The EZ Rub oil finish is another product that will assist our customers with a complete installation of the fine wood products that we produce.", states Jeff Major, President Bed Wood and Parts.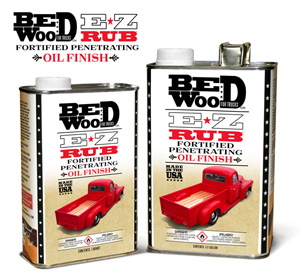 BedWood EZ Rub Fortified Penetrating Oil Finish
Custom woods are open to the elements and must be properly protected to ensure a quality appearance. BedWood EZ Rub is an effective way to provide a natural look and protection for the wood bed of any vehicle.  Specially formulated to be applied evenly, the natural oil will penetrate the surface of the wood. When applied as directed, EZ Rub will provide a natural long-lasting finish that protects from the elements, provides two-levels of U.V. protection and inhibits both mold and mildew.
Bed Wood and Parts was founded in 2006 by Jeff Major, with the fabrication shop and headquarters in Hopkinsville, Kentucky, where craftsman hand shape replacement and custom bed products for trucks and others custom vehicles. From quality restorations to the most exotic custom truck and even late model daily drivers, BedWood for Trucks offers ready-to-finish and install kits, because "Wood Looks Good!"©. You can learn more about Bed Wood and Parts at www.BedWoodandParts.com or by calling 1-877-206-WOOD (9663).