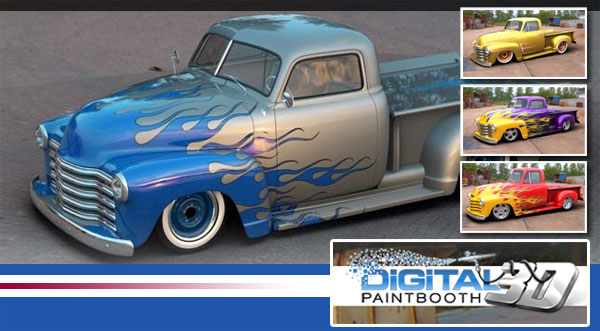 House of Kolor Digital Paintbooth 3-D Single Version Software is Available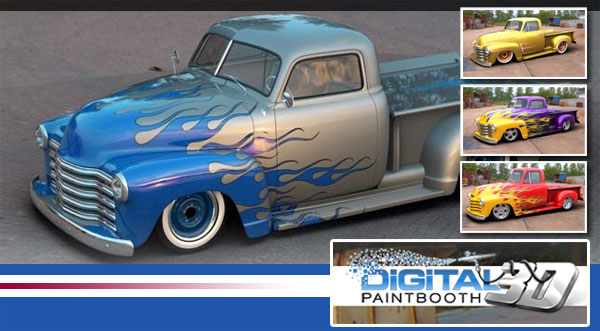 ST. LOUIS-October 27, 2012 – The House of Kolor Digital Paintbooth 3-D Single Version Software is available today. This completely redesigned software allows the consumer to choose from popular vehicles and build them digitally on their computer screen. Using ground breaking 3-D technology, the user can choose paint schemes, adjust suspension height, change wheels and make body modifications. This new version allows users to see the vehicle from all sides.
The user can change paint colors, generate fades, create two-tones, or add pre-made graphics. The user can virtually chop and lower their vehicle. They can also turn on and off vehicle features such as mirrors and emblems. The possibilities are endless. House of Kolor Digital Paintbooth 3-D also offers for the first time, the ability to change wheels. The user is able to control the wheel offsets, sidewall height, hoop colors and more. All of it is in realistic 3-D.
Pricing and Availability
The Single Version which allows the user to customize 1 vehicle from the database of available vehicles retails for $79.95. A Pro Version featuring multiple vehicles will be available at a future date. House of Kolor Digital Paint Booth 3-D gives you the power to create the Custom Ride of your dreams, just as you have always imagined it – in House of Kolor. See it before you Build it!
For more information contact :
Digital Paint Booth
1-888-294-0984