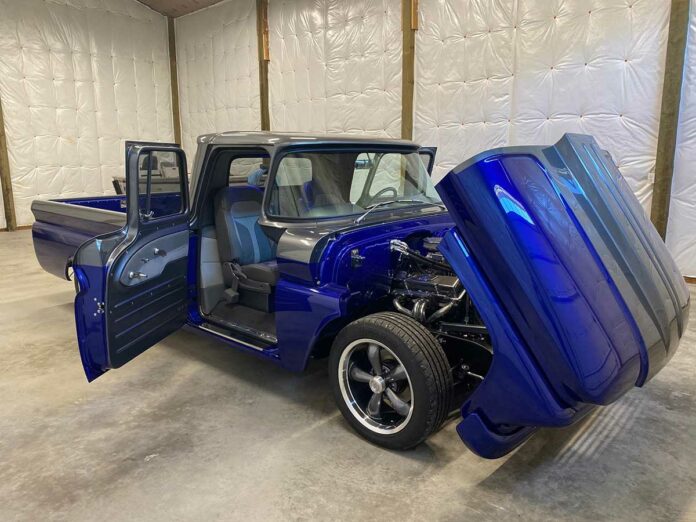 Mike's father had purchased the C-10 from the original owner who kept the pickup garaged its whole life. After owning it for years, he then sold it to Mike's younger brother in his teens. He drove it for many years. It was then sold to a school mate of his. The truck sat for 5 years with intentions of restoring it. Mike then bought it and set out to build something nobody else had. Mike obviously has a lot of experience working on classic vehicles. Mike said, "It's easy to rebuild a vehicle back to stock. I was not interested in doing that."
Starting with an absolutely rust free truck is unheard of, but this 62 was perfectly clean! Suicide doors and a full tilt front end highlight the body mods, which Mike did himself. Mike spent many, many hours trying to figure out how to build the tilt front end and suicide doors along with the rest of the body mods. To get the hood to open properly, Mike added a hinge point on the frame 12 inches behind the bumper with electric actuators that open and close the front end. He also cut the roof off, insulated and removed the rain gutter, and then welded it back on.
Mike boxed in the frame which houses all fuel lines, brake lines and wiring inside. He kept the front torsion bar suspension, but completely rebuilt all components. The 62 rides on air bags with an on board air compressor. Mike installed a 2001 Chevrolet half ton rear end with 3:73 gears, narrowed by 7" to accommodate the 11" wide wheels. Classic industries 2" front drop spindles and disc brakes on all 4 corners bring this beast to a stop. A Hydraulic brake booster handles the stopping pressure. The parking brake is a 2" electric actuator that pulls the cables to set the brake that eliminated the hand or foot pedal inside. This C-10 is riding on Vision wheels 142 legend 5 in gunmetal grey. Front wheels are 8.5" x 18" diameter with 11" x 18" in the rear.
Under the hood is a 409 cubic inch small block chevy engine that has been balanced, crank ground, rods resized and bored .40 over. A 286 grind cam, Comp Cam springs and retainers with roller rockers control the valves. A high pressure high volume oil pump keeps the Chevy powerplant lubed. Induction is supplied by a sniper EFI system. Backing up the engine is a built turbo 350 with Gear Vendor overdrive.
Inside is an all leather interior. A full touch screen stereo with 800 watt amp, 2 – 10" subwoofers behind the seats and 2 – 5"x7" 3 way speakers in the front kick panels keep Mike rocking. Sound deadening was installed to keep the cab tight.
After 14 years of building, Mike says, "It has been a labor of love, but now it is time to enjoy it." We couldn't agree more!