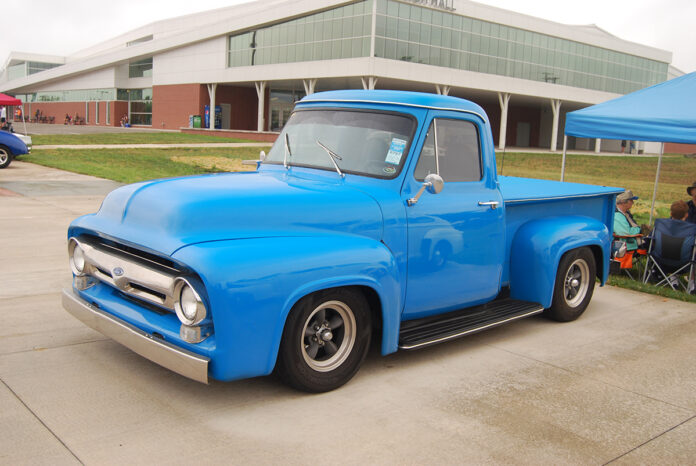 It's easy to go to a big car show and get caught up in comparisons. You'll see a mix of professionally built hot rods, home built and of course, on down the line through the rat rods. It's important to keep things in perspective, because those professionally built classic trucks have hundreds of hours put in by pros with more tools than I can even think about in my home garage. When we come across a really nice home built truck, we take notice!
This 54 F100 is a home built truck with a lot of quality. Fit and finish is really done well, which is no small feat considering how hard F100 hood and fender alignment can be. Door gaps are nicely done and consistent as well. The truck is a great example of an upgraded pickup with the body mostly stock. Up front is a 56 chrome grille which gives you those classic 56 frenched-in headlights, larger 56 parking lights than the 54, and a front bumper that was tucked back in toward the front valance.
It's rolling on an IFS up front on Torq Thrust Gray style wheels, with a 351 under the hood. The fuel tank was moved to the rear to get the tank out of the cab. On the right cowl, the vent was deleted for a smooth look.
Take a look at this beautiful truck and remember, this was built at home! We love that!