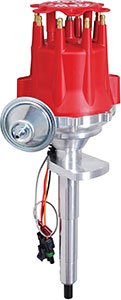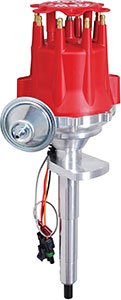 Your old Flathead may not be sparking so well anymore. Try this MSD distributor on your Flathead Ford.
MSD Specifications and Information:
Early Flathead racers and cruisers alike will be excited to see these front mount Flathead Distributors! These distributors are built around a CNCmachined billet aluminum housing for precise tolerances. The distributor is topped off with our own Crab Cap with spark plug style terminals for improved wire connections. Just under the cap and Rynite race rotor is MSD's adjustable mechanical advance. This assembly features chromoly construction with TIG-welded weight pins to secure the precision fine blanked weights. MSD supplies different advance springs and stop bushings so you can dial-in an advance curve to meet your Flathead's specs. Just under the advance is MSD's race-proven magnetic pick-up. This pickup, combined with a reluctor, produces accurate trigger signals that are responsible for firing the MSD Ignition Control. Bring your Flathead up-todate with MSD performance.
Features:
Designed for 1949-1953 8-BA Ford Flathead engines
Simple and clean installation with only three wires to connect
Powerful built-in module produces a 7.5 amp single spark through high rpm
Easy-to-adjust mechanical advance with supplied springs and stop bushings
Vacuum advance canister for improved economy (can be locked out)
Maintenance-free magnetic pickup and precision reluctor create stable trigger signals throughout the rpm range
CNC machined billet aluminum housing and billet aluminum base
Polished steel shaft is QPQ coated and guided by a sealed ball bearing
Advance plate and weights are fine blanked from chrome moly steel and QPQ coated for friction reduction
Mechanical advance assembly can be locked out for crank trigger systems
Advance weight pins are staked and tig welded to the plate
Nylon pads ensure smooth operation of the advance weights
Supplied with an HEI style distributor cap, rotor, gear, roll pin and setup spacer
Accepts Cap-A-Dapts
Does not require an MSD Ignition Control
No CARB Exemption Order Number
Includes built-in Rev Limiter!