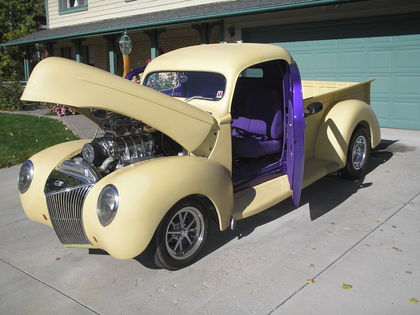 Larry Morehead's 40 Ford is just plain wicked. Sporting suicide doors, an all steel 4″ chopped top and a 6-71 blower, this 40 Ford turns heads wherever it goes.
1940 Ford Pick-Up Custom Street Rod
Vintage 60's and 70's Style
All steel, 4" Chopped Top
Suicide doors with lock safety pin switches
Mack Bed with Stainless Steel Strip & Oak Floors
Frame: Stock Frame, Boxed In.
Stainless Steel (Mirrored) Firewall
Hidden Hinges
Custom Grill Insert.
Engine: 350 V8-4 Bolt Main Block with a 6-71 Weiand Blower, -2- 500 CFM Edelbroks Carbs. Crane ¾ Cam. Roller Rockers, Forged Pistons 7.6 Tol, Compression 38% Boost, Balanced Engine. 30 Over Scott Cranked Double Keyed.
Radiator: Griffin Aluminum Radiator for Blower Motor.
Trans: Turbo 400, 2000 Stall Convertor, Lokar Shifter.
Rear End: 1972 Grand National Quick Change Frankland #72653.
Front Susp: Mustang II with Heidt's Disc. Ford Rotors Economy Arms.
Rear Susp: Rear Coil over Shocks, Rear Cross member w/Boxing Plates.
Steering: Flaming River S.S. Tilt Steering Column, LeCarra '40 Ford Steering Wheel.
Brakes: Heidt's Disc on Front/Drums on Back.
Wheels: Front- 15" X 4" Gasser Polished 10 Spokes Aluminum. Back- Sprint PM 15" X 10" Polished. Halibrand Dished 5/8 Bolt. Tires: Front- 45Rx15 785 Back- Radial T/A BF Goodrich R15 1075.
Interior: TEA's Seats- Split Bucket Bench #1342. Roll + Pleated Purple Cloth Fabric.
Electrical Gauges: -8- Stewart Warner Gauges-12 Volt System.
Windows: SPW Kit #5424-1804-9577-7549 Electric Windows.
Doors: Remote Doors With Safety Locks. W/S
Wipers: -2- Electric Windshield Wipers.
Fuse Block: RPM Shop 18 Circuit Fuse Center
Radio/Stereo: Sound City Radio
Misc Equip: Halogen Head Lights, LED Tail Lights,16" Zirgo High Output Cooling Fan.
Misc Systems: New Wiring, New Gas Tank, 3" Exhaust System. Member of the NSRA and Good Guys Auto Club! We have a 23 Point Safety Inspection with the NSRA!
The body has the Primer Sealer Coat and just needs the final sanding and blocking before paint.