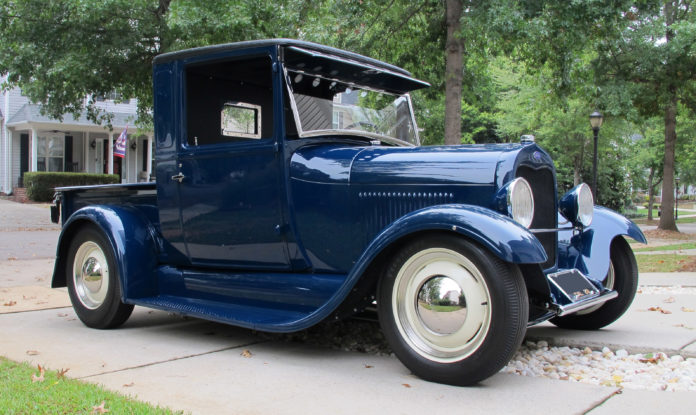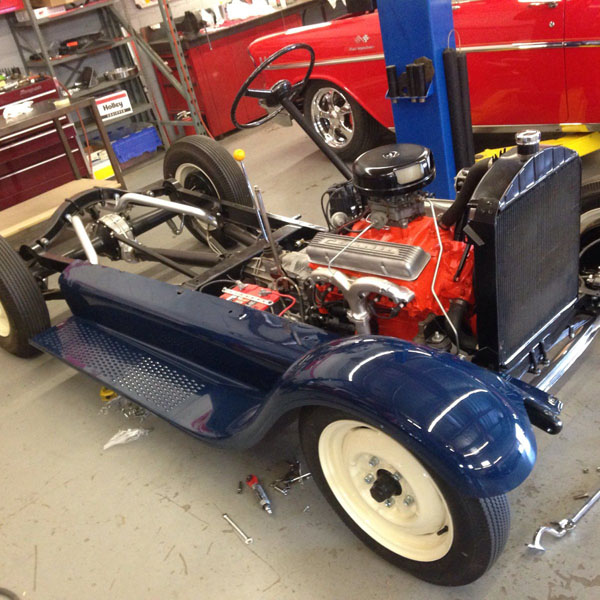 We rarely get to see a stunning '29 Model A closed cab traditional hotrod truck like this one on the streets, especially restored the way this one has been. The owner sent us pictures of his newly built pride and joy that he now has the pleasure to call his own and hopes to create many years of memories with this little truck in his family. For him the truck had to look mostly original, but would have a lower stance and not have the little stock 40 horsepower motor that Henry had originally intended for nearly 100 years ago. After searching over 3 years and he really found a possibility and traveled 2,400 miles to Southern California to see if it was as good in person as it was on the internet. Though he was ok with a rat rod, or a restomod, once he got to SoCal and laid eyes on this professionally built show truck in person, he knew this was the truck for him. The pro fabricator that built this truck spared no expense to make this truck perfect in every way, knowing his reputation was on the line as this was his personal vehicle. It was built as a late 50's Traditional Hot Rod using all original Ford parts but with a Chevy heart. Nothing was left unrestored, or not new or rebuilt and not pieced together from 20 different cars, this was an original unrestored driver originally from Arizona. This 1929 pick-up is yet so beautiful standing still, but once you get behind the wheel, that's when the fun really begins!
FRAME SPECS: This '29 pick-up still sits on the original frame, and the rear cross-member has been moved back, all boxed and powder coated. It has an original early Culver City Halibrand Aluminum V8 Quick-change rear that was modified to use 1950 Mercury side and spider gears, axles, tube ends and hydraulic brakes. The sound it makes humming down the road is pure music to the ears for those who know what it is. The front axle is a '32 Ford "heavy" Mordrop that has been polished and chromed. Also up front are '32 Ford spindles and split wishbones, radius and torque rod, tube shocks, reversed eye spring and '40 Ford drum brakes. The master cylinder for the brakes is a dual circuit frame mounted under the cab using original '32 Ford brake and clutch pedals. For steering it has an F100 steering box connected to a '40 Ford steering wheel and the original horn button even works! Front wheels are '40 Ford 16×4 , and rear are '47 Mercury 16×5 solid steel wheels that have been beautifully powder coated in a shinny cream Brule and wrapped in Firestone bias-ply tires.
MOTOR/TRANS SPECS: The truck scoots down the road with plenty of power from the totally rebuilt 45,000 original mile Chevy 265 V8 that came out of a 1956 Bel Air and is attached original Hurst engine mounts and a Chevy bellhousing matted to a Tremec World Class 5 manual transmission and uses the original Model A shift lever and parking brake. This old 265 still utilizes the original Rochester 4 barrel carb which is sipping fuel from the original '29 cowl gas tank! It has 1960's Corvette bullhorn exhaust manifolds, fan, and polished stagger bolt valve covers. She fires up instantly with a PerTronix ignition in the original gm distributor. The Walker radiator keep her running below 170 at all times.
BODY SPECS: The BODY is all original 1929 Henry Ford steel which is nicer than it was when it came off the assembly line in 1929 in Twin Cities MI according to the original stamping in the cab. It was stripped, metal finished and painted in original Ford Washington Blue PPG single stage paint. The fenders, splash aprons are off a 60's era show truck, and have no wire edge breaks or repairs, and no patch panels. The firewall of the CAB was re-arranged to fit the Chevy engine, and no interior room was lost, even the toeboards are in the original location with room for a 6 foot plus tall driver. The flooring is all solid Oak beautifully varnished to match the wood in bed. The custom seat, door panels and kick panels are finished in Oxblood Red leather and the rear panel and windshield header are black vinyl, even the original map pockets still remain. The roof has new wood with original style long grain vinyl. The original dash panel has been modified with a machined finish and still utilizes the original working gas gauge, ignition and headlight switches, and now houses a new Stewart Warner GPS speedometer, plus and oil and water temp gauges rest in a panel below all looking custom in a machine turned modified dash panel cover. It has a Dropped and chromed bar holding up the original headlights with fluted glass lens with halogen bulbs and soon to be added turn signals for safety purposes as nobody on the roads anymore knows what hand signals are.
The BED was dis-assembled including all the rivets removed, metal smoothed and riveted back together as original. It has a new solid oak bed floor held together by powder coated bed strips. It is completely flawless and the only thing that ever been in it has been a box of crispy cremes for a picture, and the car cover rolled up.
Though he's only owned it a half of a year, it's been to several car shows and cruise-ins for the first time in its life as the builder never showed it after the build was completed. Today the owner has been slowly going over every nook and cranny detailing and soon to ad a right brake light and turn signals and sadly add a new non-traditional part, a hidden 3rd brake light for safety. The truck runs immaculate and is a lot of fun shifting through the 5 speeds and listening to the sound of the quick-change rear. The exhaust is quiet overall but roars when you get on it for sure.