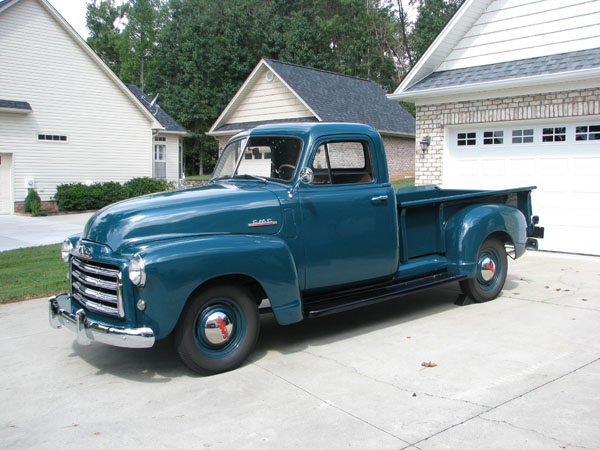 A truck story from the owner of this American classic,
"I was 10 years old when I saw this truck about 4 miles from our tobacco farm in Tobaccoville, North Carolina. The year was 1977. My Grand Father, Uncle and I went to help the farmer that owned the GMC truck gather hey at the end of summer. This helped feed his some 100 back angus steers for the winter. Located next to the large red barn sat this little diamond in the rough, it was this good looking truck, at the time it was old enough that I had never laid eye's on such a beautiful ride. After we got up all the hey, and stored it in that ole feed barn, I asked the farmer if I could sit in the little green truck. He quickly replied, "we can do better than that, hop in young man", and he drove me around his farm, watching him maneuver through the gears on the column was pretty amazing, and hearing that ole 6 cylinder motor sounding like a hyped up sewing machine was pretty cool. We were own the ole farm road when we came around the bend there was a Duck and its ducklings crossing the road to get to the pond. The farmer quickly reacted, and the oooohga, oooohga came barreling out of the horn as the ducks scurried out of the way. We drove back to the ole barn where he parked it, and I told him thanks for taking me on the ride in that pretty green pick-up, Time marched on, and we never helped that particular farmer again. I grew up as well, and a month after I graduated from high school, I joined the Air Force. I left my home and state, and traveled the country side for 24 year's before retiring from the service.
I came back home.to settle down in North Carolina, close to the ole homestead. About nine years later a man pointed me in the direction of a 1950 GMC pick-up for sale not far from home. I went to look at it one Saturday morning, and this mechanic had the truck in a big storage building amongst 11 other classic vehicles. He told me that he bought the vehicles at an estate sale. He restored classics and resold them. I replied to him that the green truck was awesome, and he sold it to me. At the time I did not know until I went to register the pick-up, that this same truck was the same truck I sat in some forty years ago. I remember tearing up that day as I fondly recalled my experience on that Farmer's farm, and having the opportunity to ride in that ole truck. The farmer had since past, and it was a grandson that sold the Farmer's car collection through the estate sell.
The truck has 62,000 original miles. I was told some time in the early 80's the truck went into a warehouse where it was kept with other vehicles. The truck had a repaint in the late 80's, and sat dormmate for at least the next 29 years. I received it as an all original truck. Of course minor maintenance had to be accomplished to get back to road worthy status. New tires, chromed re-chromed, new gas tank, brake lines, electrical lines, and gas lines replaced. Currently all lights, and turn signals are operational, along with the dimmer switch. Heater works, wipers work, choke and throttle is operational. There is little or no rust, the truck has never been molested. and drives like a champ. A strong 228 ci motor, the head gasket has recently been replaced, along with the clutch plate being replaced."
Truck was manufactured in Atlanta Georgia, and sold from North Wilkesboro, North Carolina on September 11, 1950