BedStrips™ Now Available in a "Flat Top"™ Version for a Sleek Smooth Look.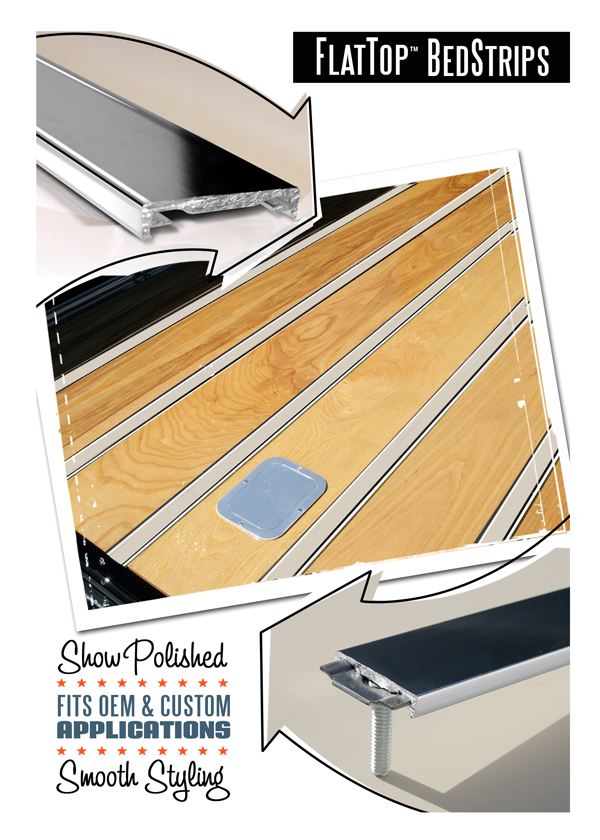 Hopkinsville, KY- November 1, 2011—BedWood for Trucks, a manufacturer of quality BedWood kits made in America for trucks, customs and hot rods, has just released another in its series of innovative BedStrips.
BedStrips are polished, extruded-aluminum strips with hidden fasteners for securing bed wood in early model trucks. The BedStrips are custom-cut for each specific OEM or custom application and feature a show-polished finish that is clear anodized for durability.- BedStrips have previously been offered in just two distinct styles, the "Double-Hump" and the "Speed Bump".  Now BedWood has released a smooth, sleek and clean look named the "Flat Top".  "Featuring the same benefits as the other two designs, the "Flat Top" offers builders a clean unobstructed look for their bed wood.", stated Jeff Major, President of BedWood for Trucks.
These extruded strips complete the look, fit and finish of any BedWood kit. Aside from improving the look of your wood, the BedStrips will securely align your BedWood kit. The show-quality strips with the hidden fasteners ensure a clean, smooth style that will enhance the bed of any truck. Proudly, all BedStrips are made in America.
Jeff Major, founded bed Wood and Parts in 2006 with the fabrication shop and headquarters in Hopkinsville, Kentucky, where craftsman hand shape replacement and custom bed products for trucks and others custom vehicles. From quality restorations to the most exotic custom truck and even late model daily drivers, BedWood for Trucks offers ready-to-finish and install kits, because "Wood Looks Good!"©. You can learn more about Bed Wood and Parts at www.BedWoodandParts.com or by calling
1-877-206-WOOD (9663).