BedWood™ for Trucks Offers a Wood Finishing Kit and Spray Detailer
Hopkinsville, KY—November 1, 2011— Bed Wood and Parts the leading manufacturer of specialty bed wood restoration and custom kits offers a wood finishing kit and spray detailer.
In addition to supplying a complete line of BedWood kits for restoration and customization, the BedStrips line of extruded aluminum hidden fastener strips are also available along with the RetroLiner™ wood kits for late model vehicles.  Adding to the BedWood line of extensive and superior quality products are the new finishing products.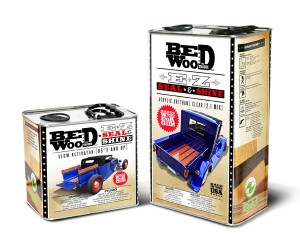 "These products offer the customer a complete method for finishing and caring for the fine wood bed they have installed.  These EZ products also offer the enthusiast a proven product and after-purchase support, no more guess work.  BedWood now offers premium woods, custom BedStrips™, an easy-to-use finishing kit and a maintenance detailer, states Jeff Major, President Bed Wood and Parts.
BedWood EZ Seal & Shine Finishing Kit
A custom wood bed should shine and have a sealed finish that protects.  This new single-stage finishing kit offers both with an easy-to-use sealer that any hobbyist can use. EZ Seal & Shine can be sprayed or brushed on most stained, painted or raw woods.
The eco-friendly finish provides a high-gloss, protective finish that shields against harmful UV rays.  It meets all VOC standards worldwide and is packaged in handsome, resealable metal cans.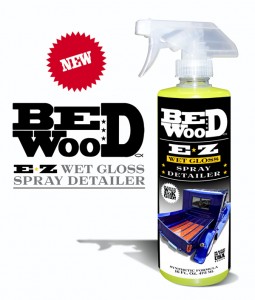 BedWood EZ Wet Gloss Spray Detailer
The most effective way to polish and protect any custom wood bed is with this EZ spray detailer. It also provides a mirror-like finish to the paint, glass and metal surfaces the vehicle.  This specially formulated, synthetic spray detailer provides a super wet, gloss shine, removes smudges and fingerprints while reducing friction.  Harmful static can cause scratches when wiping or drying surfaces, EZ Wet Gloss Spray Detailer brings all surfaces to the height of a show-car finish and always, "Makes Wood Look Good!©"
Jeff Major, founded Bed Wood and Parts in 2006 with the fabrication shop and headquarters in Hopkinsville, Kentucky, where craftsman hand shape replacement and custom bed products for trucks and others custom vehicles. From quality restorations to the most exotic custom truck and even late model daily drivers, BedWood for Trucks offers ready-to-finish and install kits, because "Wood Looks Good!"©. You can learn more about Bed Wood and Parts at www.BedWoodandParts.com or by calling
1-877-206-WOOD (9663).