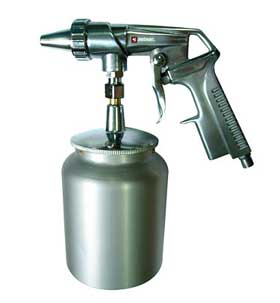 I've been wondering if the hand held Abrasive Blasters work well for small/quick projects. I end up doing little projects fairly often. I don't have the space to leave a big blaster out ready to go as needed. I also don't have the space in my garage for a cabinet style blaster. Last Sunday, I ran out to my local Tractor Supply and picked up their $20 hand held abrasive blaster and 20 pounds of 80 grit glass beads. I mostly want to clean up welded areas where the residue is left from the flux cored wire. Many times I wire brush these areas before paint. With the blaster, it took all of 30 seconds to clean the steel piece that I made. It was ready for primer that quick! I'm sold!!!
It would be expecting a lot of it if you wanted to strip a whole fender. It seems perfect for cleaning up small projects. It's hard to believe the tool only costs $20, but it's well worth it.
I picked up one from Tractor Supply, but many other companies offer these blasters.
From The Tractor Supply Website:
JobSmart® Hand Held Abrasive Blaster is ideal for rust removal and small projects.
2 lb. capacity
Includes 1/4 in. quick-disconnect hose fitting
Minimum air requirement: 8 @CFM @ 100 PSI