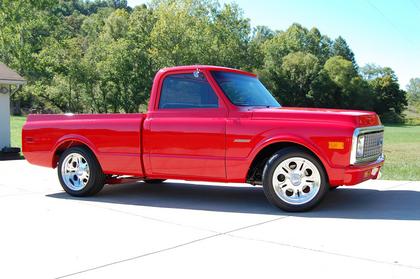 From the great state of West Virginia comes this 1971 Chevy C10 short bed pickup. It's a custom built and restored show truck with quality workmanship throughout. The truck's owner, Jay, says it has won multiple car show awards. Nice work Jay!
Engine: Big block 454
Transmission: 400 turbo transmission
Paint: Porsche Guards Red,
Wheels: Centerline 18″ Corona wheels, Bridgestone Potenza tires,
Suspension: Chisholm front A arms suspension, Brothers rear trailing arms suspension
Bed: Oak and stainless steel bed
Gas Tank: Stainless steel fab shop polished fuel tank under bed in rear
Exhaust: Stainless steel
Dash: Custom built CNC milled solid billet 1 1/2″ thick with VDO gauges
Stereo: 1000 watt Stereo system with TV and DVD player.
Misc: All bolts on truck are polished stainless.