This is an awesome deal. Craftsman 1/4 Inch drive socket set at arond $32!!! That's HALF Price!!!
THE DEAL COULD EXPIRE ANY TIME????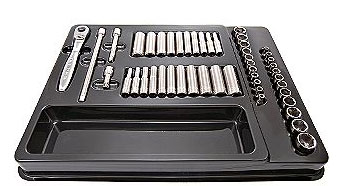 The ratchet is the new style from Craftsman which I think is better quality than their quick release style that used to come with all of the sets (and still is included in most). You can't buy the sockets or the ratchet and extensions for that price.
Product Description
48 pc. 1/4-in. Drive Socket Module. Separate prices total $140.53. Wt. 3.63 lbs.
11 6-pt. inch (5/32 thru 9/16 in.)
12 6-pt. metric (4, 5, 5.5, 6 thru 14 mm)
10 6-pt. inch deep (3/16 thru 9/16 in.)
11 6-pt. metric deep (4 thru 14 mm)
1 Thin-profile ratchet
3 Extension bars (1 1/2, 3, 6 in.)