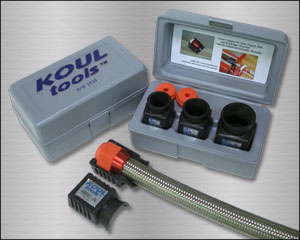 Assembling braided stainless lines with hose ends can be a tiring experience. It takes a lot of practice and wasted hose ends, unless you have a KOULtool™.
From the KOULtools™ Website:
"KOULtools™ are simple to use and will save time and fingers from the frayed ends of a braided hose .
After choosing the correct "KOULtool™" for your fittings socket size, simply place the socket and adaptor ( if required ) into the "KOULtools™" and clamp it into a vise.
Lube the funnel entrance and twist the hose into the socket.
---
Contact: Koul Tools LLC
Phone(928) 854-6706