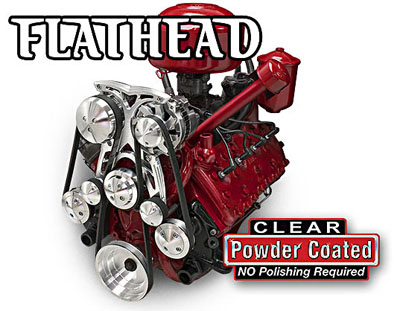 New from March Performance is their new Ford Flathead Serpentine Conversion. Modernize your old Flatty with the look and functionality of a modern serpentine belt system.
Here is the info. from March Performance:
NEW! FORD FLATHEAD SERPENTINE DRIVE
If your Ford Flathead powered Hot Rod still has the old V-Belts, this March Performance serpentine conversion is the best way to get modern serpentine belt reliability and "No Slip" operation in one Highly Styled package. AND Now you can have the comfort of Air Conditioning to boot.
Compact in design with inward mounted alternator and A/C units that fits nicely in tall narrow hoods. A 105 amp alternator supplies all your electrical needs. Two water pumps with 45 or 90 degree motor mounts provide the cooling and two idlers guarantee all the belt wrap this kit needs for no belt slip operation. Best of all a unique center mounted remote power steering pump not only provides power for your steering setup but also acts as an easy belt tensioning mechanism. Available without pump if that is what you need.
---
MARCH PERFORMANCE, INC.
16160 PERFORMANCE WAY
NAPLES, FL 34110
TEL: (239) 593-4074
EMAIL: info@marchperfinfo.com