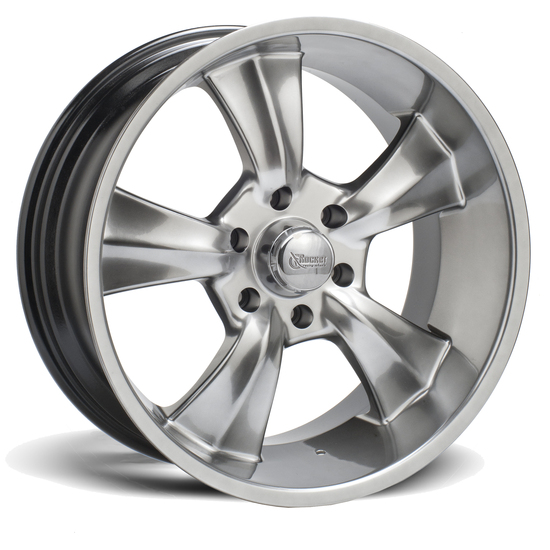 Rocket Racing Wheels is launching a new wheel that will be available in May of 2012. What makes the wheel unique is the focus on classic trucks and their massive fender openings. This wheel was made for 6 x 5-1/2″ lug hubs that some classic Chevy and GMC trucks have. You can also get it in a 5 on 5-1/2″ bolt pattern for the Ford hubs. Rocket Booster 6 wheels are 20″ x 9″ only allowing them to fill your fender wells. For you newer Ford guys, a 5 x 135 mm and 6 x 135 mm wheel is available.
From Rocket Racing Wheels:
Rocket Racing Wheels changes the game by unveiling the first 6-lug, five-spoke, classic style truck wheel. The all-new, Rocket Booster 6, mimics the sleek, hot rod design of the original Rocket Booster, but with a 6-lug mounting application. Booster 6 features a reverse mount soft lip outer that provides a longer spoke and maximizes the wheel window. Additionally, Ford Truck enthusiasts can cruise in hot rod style with the option of the 5×5 1/2 bolt pattern application.
The Booster 6 will be available May 2012 in 20″ size and is purpose built to deliver big style and performance for 6-lug classic and late model trucks and SUVs at very affordable prices. The Booster 6 was beefed up for towing capacity and will be load rated at 2,650 pounds per wheel. The Booster 6 is precision-crafted from A356 aluminum and designed and tested to meet or exceed U.S.D.O.T. requirements and SAE standards. Booster 6 quality finishes will include our durable high-luster Chrome and our easy to maintain classic Hyper Shot paint. To complete the look, each wheel is topped off with a vintage-style domed aluminum center cap.
Contact:
---
Rocket Performance Machine, Inc.
P.O. Box 5347
Chattanooga, TN 37406
TOLL FREE: 888.307.7525
Local & International 423.648.5865
Fax 423.648.0253
---