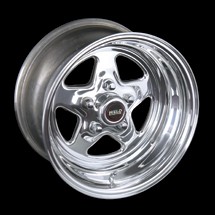 Remembering back 20 years ago when I started into hot rodding, I remember 1 wheel that was on almost every pro-streeted vehicle around. It was, and is, strong enough to race and it looked awesome on any vehicle. As you might guess, designing a wheel that everyone likes is almost impossible. It is a testament to a wheel design that so many people loved the look of the ProStar. It is our Wheel of the Week.
From the Weld Racing Website:
The Pro Star is one of the longest produced five-star style drag racing wheel for a reason, its storied past makes it one of the more iconic wheels on the marketplace. These wheels used to be the norm in NHRA Pro Stock and eventually made its way down to the streets on muscle cars and late-model vehicles. The two-piece cold forged and welded construction allows the wheel to be lightweight but hold up to the rigors of daily drivers.
-Push-thru center cap & valve stem included
-Maximum load rating for street applications is 1200 lbs per wheel (2400 lbs per axle) with a 28″ tire.
-Mag style lug nut required 1.310″ to 1.375 shank length.
-Made in Kansas City, USA
---
Weld Racing
6600 Stadium Dr.
Kansas City, MO 64129
800.788.9353
8:00 a.m. to 5:30 p.m. CST (M-F)